Inertial Profiling
The Inertial Profiling certification course covers general concepts of smoothness measurements, profiler operation and calibration/verification, and specifications relating to smoothness. While no formal training session is provided for this course, an online review module is available to provide content regarding information that will be necessary for the exams.
Pre-Requisite Requirements
This course is not intended to provide basic training, but rather to serve as an evaluation for certification. Prior to attending the course, participants should have a working knowledge of smoothness concepts and inertial profilers. Completion of the online review module and applicable field experience with inertial profiling is strongly recommended.
No pre-requisite courses are required for Inertial Profiling Certification.
Specifications
The information covered is as documented by the Arkansas Department of Transportation (ARDOT) Standard Specifications for Highway Construction, and also includes the following:
AASHTO M 328 Standard Specification for Inertial Profiler
AASHTO R 56 Standard Practice for Certification of Inertial Profiling Systems
AASHTO R 57 Standard Practice for Operating Inertial Profiling Systems
ARDOT SP Percent Within Limits / Pavement Smoothness (IRI)
ARDOT SP PCC Pavement Surface Smoothness (IRI)
The Inertial Profiling certification program involves certification of an Inertial Profiling System (IPS), which is the combination of an inertial profiler (i.e., equipment) and an operator (i.e., technician). The technician must complete a written exam and performance exam in order to achieve certification. In addition, the profiling equipment must be certified, in a manner similar to that required for CTTP Participating Laboratories.
Supplies and Equipment
For the written exam, participants should bring a pencil and calculator. Calculators may be borrowed from CTTP; however, participants are often more comfortable bringing a calculator with which they are familiar, and routinely use. For the performance exam, course participants will be required to transport all inertial profiling equipment needed for calibration and operation. A quality manual, including calibration records and company information, must also be submitted for review.
CTTP course participants are required to wear applicable personal protective equipment during the performance exam, including long pants, closed-toe shoes, and a safety vest. Smoking will not be allowed at the performance test site.
Course Location and Schedule
The Inertial Profiling Systems Certification course will be held in Pine Bluff, Arkansas. Testing will begin at 8:30am on the day of the testing session, with check-in from 8:00 am to 8:30am. The performance exam will be held immediately following the completion of the written exam, at the Profiler Test Site, as shown on the map below. The Profiler Test Site is located on the access road near the interchange of I-530 and Hwy. 65. The course will conclude by the end of the day, after all performance tests are completed.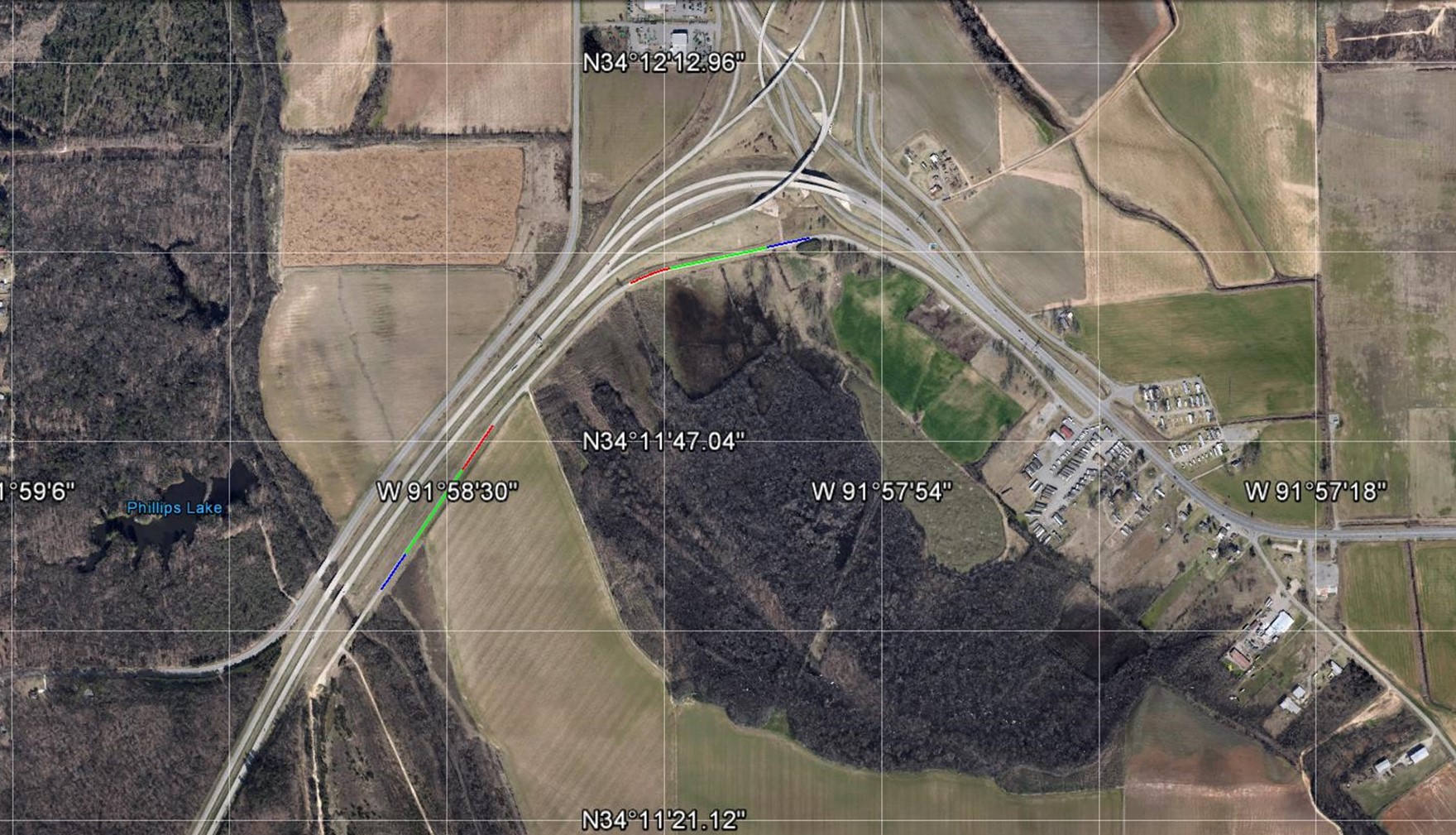 Exams
The Inertial Profiling Certification requires a passing score on both a written and a performance exam. The written exam is closed-book, and primarily covers the material presented in the online review module. Two hours will be allowed for the written exam, and a minimum score of 70% is required to pass. The performance exam consists of 5 stations, including:
Bounce Test – verify proper operation of accelerometer
Block Test – verify proper vertical height measurement
Distance Verification – verify longitudinal accuracy
Asphalt Test Section – perform 5 runs of the asphalt test section
Concrete Test Section – perform 5 runs of the concrete test section
Performance exams must be performed individually, and are graded on a "pass/fail" basis. Participants must pass each performance station in order to pass the performance portion of the course.
Certification
Because certification involves the Inertial Profiling System (IPS), a certification will only be granted to a unique combination of technician and profiler. As such, it is feasible that a single technician may request certification for multiple profilers, or that multiple technicians may request certification for a single profiler. For each certification, both the technician and equipment must complete the necessary requirements. Technician requirements are met upon successful completion of both the written and performance exams. Equipment requirements are met by demonstrating proper operation of the inertial profiler (as determined during the performance exam), and upon approval of the Quality Manual sections that pertain to the profiling equipment.
Upon successful completion of all requirements, participants will receive a 3-year certification in Inertial Profiling. Certified individuals will receive a CTTP certificate and pocket card, with identifying information for the equipment comprising the IPS, and will be added to the CTTP website list of Certified Technicians. Expiration dates occur on a semi-annual basis, and will be either June 30 or December 31 after the 3-year certification period.
Re-certification in Inertial Profiling may be achieved by successful completion of the 1 day Inertial Profiling Systems exam session.
Participants who do not pass the Inertial Profiling Systems certification course by failure of either the written or performance exam will be required to repeat the failed exam. Written exams may be re-taken at a time and location designated by CTTP. Performance exam re-tests will be held at the Profiler test track on a date designated by CTTP.
Reciprocity requests will not be granted for Inertial Profiling certification.
Registration
ARDOT employees may register for this course by contacting Dorothy Rhodes at dorothy.rhodes@ardot.gov . All others should Click Here to Register. Applicable fees will be assessed.